Posted by Pharmacy Automation Supplies on Aug 2nd 2021
Comeaux Pharmacy in Kenner, La is a beloved independently owned Pharmacy, and it's easy to see why. The full-service pharmacy has been treating the community of Kenner, La, with friendly smiles and personal service that is hard to match. Whether you need just a refill, consultation, medication delivery, immunizations, or non-sterile compounding, you can count on Comeaux to come through. Pick up the phone, stop in, or send an email and you will find a helpful person at a moment's notice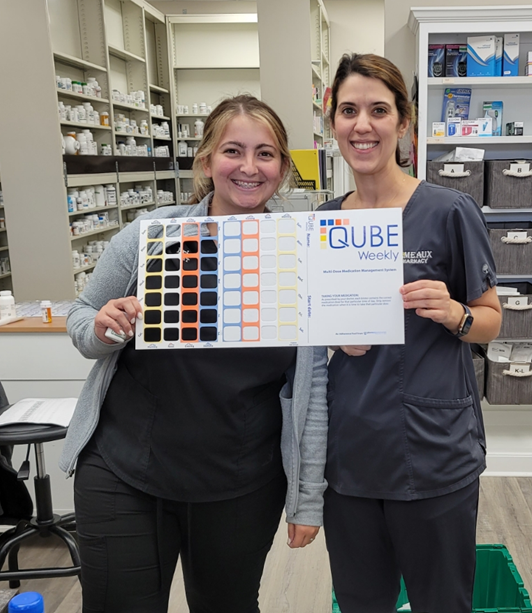 Briana Bonvillian and Lisa Comeaux and from Comeaux Pharmacy in Kennar LA

Along with traditional pharmacy services, Comeaux pharmacy has had a great deal of success by offering the Qube multi-dose medication management system. The Qube system allows the staff at Comeaux to go the extra mile in delivering medications to patients with complex dosing. Qube is a cold seal packaging product that enables the team to quickly and efficiently fill weekly or monthly medication cards. When it comes to Qube supplies and more, Comeaux relies on PAS.

Comeaux has built a reputation for delivering outstanding service and equally relies on its packaging vendors to do the same. Comeaux finds many of the convenient, accessible, and friendly traits it provides to its customers in Pharmacy Automation Supplies from the standpoint of service. Comeaux finds a helpful person at a moment's notice whether they need to simply re-order supplies or have more lengthy discussions on branding or bulk discounts.

"We typically have hectic days here at the Pharmacy," said Owner Lisa Comeaux. "Pharmacy Automation Supplies gives us the level of service we need to quickly and accurately get our supply orders in." She goes on to say, "PAS simply understands pharmacies...it's what they do".

Comeaux Pharmacy and Pharmacy Automation Supplies make a great partnership with the shared qualities of friendly, accessible, and personal service. If you're near Kenner, make sure to stop in and say "Hi" to the good people at Comeaux. If you're in the market for pharmacy supplies, contact PAS today for a free, friendly, and personalized quote for your pharmacy needs.